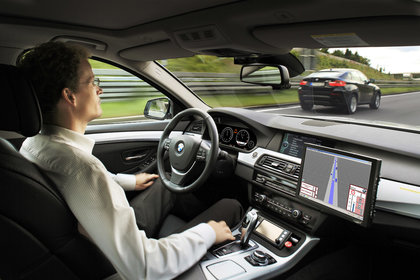 Adas systems mandatory, an opportunity for the aftermarket sector
Nicoletta Ferrini
Sensors and electronic diagnostics: a new business for repair specialists
Smarter and safer cars: no, not a dream; it will soon be mandatory. EU representatives have, in fact, reached a provisional agreement stating that as of 2022, all newly registered cars and commercial vehicles must possess several driver assistance systems, otherwise known as Adas (Advanced driver assistance system). It is estimated that within a few years, more than half of the European fleet will be equipped with radars, cameras, diagnostic sensors and other sophisticated telematics tools that, thanks to internet connections and mobile devices, will be able to connect and communicate with the outside world, from road infrastructure to other vehicles. "We are faced with the 'humanisation' of motor vehicles which, through these devices, are able to 'feel' the surrounding environment" stated Domenico Ferrara, Business Development Manager of HellaGutmann, during the conference "Adas and electronic diagnosis: a vision of the future of car repair" held at Autopromotec 2019.

All this will have, and is already having, an impact on the car repair sector. To date, in fact, many of the vehicles we are accustomed to seeing on our roads are already equipped with Level 2 Adas, i.e. able to control and manage independently certain situations using information on the surrounding environment. And the number is set to rise. "These are systems that must be controlled and appropriately recalibrated after every collision - said Tommaso Caravani of Notiziario Motoristico -. Such technology will therefore affect the activity of tire dealers, body shops and mechatronic specialists". In order to effectively work on vehicles equipped with a growing number of electronic devices, evermore numerous on our roads, aftermarket operators are called upon to equip themselves with the necessary tools and skills. A lot of money might be involved, but what needs to be considered, besides direct and indirect costs, are the risks associated with choosing to use third party workshops: from the risk associated with moving a car from one's own workshop to that of the nearest dealer, which may not be so close after all, to the time that may be necessary for the entire process. "Adas is a technology that requires expertise and dedicated areas in the workshop. Those who made this choice right at the onset of this technology, are now enjoying the benefits in terms of business volumes and revenues," confirmed Ferrara.

Not everyone might be in the position to do so, but for those who do, Adas technology can become a viable business proposition, as evidenced by the case of Adas Mobile, an independent specialized network of workshops dedicated to these systems. Alessandro Fossati, co-founder of the start-up, related, "I was pushed in this direction after evaluating not only the costs and risks associated with the option of turning to third parties, but more importantly, the time factor, which can greatly affect the satisfaction of customers, who need their car back as soon as possible, as well as fleet managers, seeing the costs involved in substituting a vehicle for a considerable length of time".
On the same topic